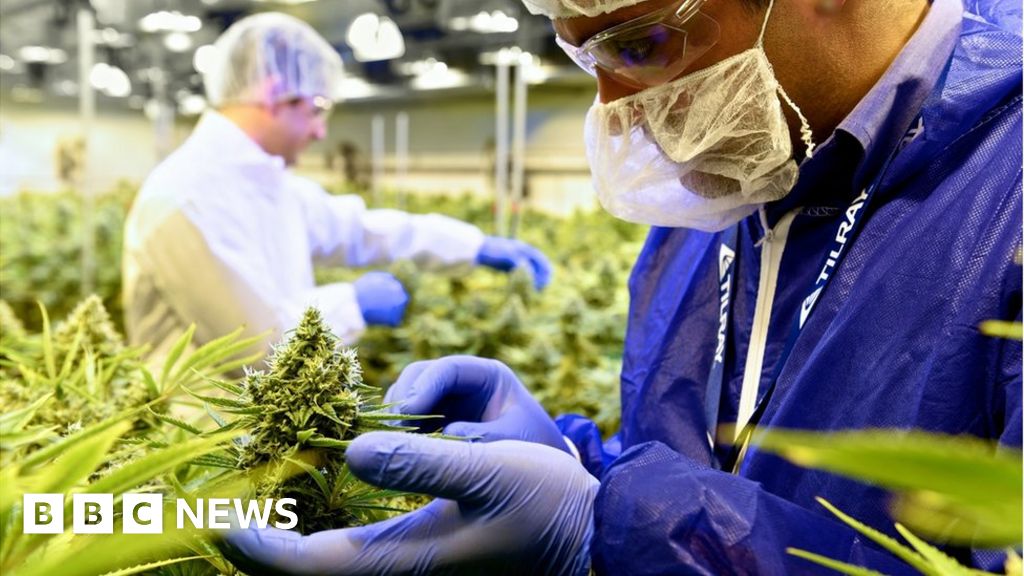 Canadian cannabis companies have hit new highs on Wall Street as US investors seek to catch the buzz from their northern neighbours.
With recreational use of marijuana due to be legalised in Canada on 17 October, producers Tilray and Canopy have seen their US-listed stocks surge.
Another firm, Aurora Cannabis, has said it will seek a US listing next month.
But analysts caution the stocks are overvalued and the gains could vanish in a puff of smoke.
In the opening minutes of Thursday trading, Nasdaq-listed medical marijuana firm Tilray, which went public in July, rose nearly 12% to $239.63 before falling back slightly.
On Wednesday, it was one of the best-performing US stocks, rising 38%.
However, trading in its shares was so volatile that it had to be halted five times during Wednesday's session.
Canopy Growth rose 2.8% in early Thursday trading. Its share price is still twice what it was six months ago, at around the $50 mark.
In the wake of their success, Alberta-based Aurora, whose shares were up 4% on the Toronto stock exchange on Thursday, is keen to have a presence on a major US exchange.
Cam Battley, Aurora's chief corporate officer, told Canada's Financial Post newspaper: "We're targeting the month of October to establish a US listing."
Aurora hit the headlines earlier this week when reports surfaced that it was in talks with Coca-Cola about developing marijuana-infused beverages.
Financial analysts warned, however, that the shares were essentially commodity stocks and that the gains might prove short-lived.
In the case of Tilray, its share price "is now up over 1,100% in two months since the IPO", said Briefing.com in a note to investors.
"The surge seems rather unsustainable, as momentum can reverse itself on short notice."