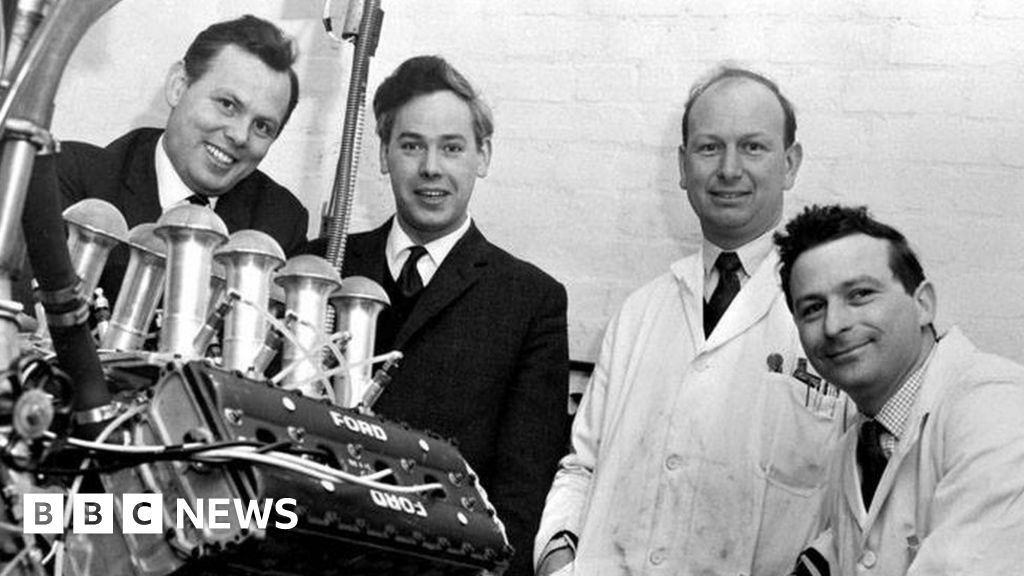 A motorsport firm whose engines have powered the cars of champions including Nigel Mansell, Michael Schumacher and Jacques Villeneuve, is marking 60 years in business.
Cosworth was set up on 28 September 1958 by Mike Costin and Keith Duckworth, who had worked together at Lotus.
They wanted to "make a living messing around with racing engines".
The Northampton-based firm claims it is now busier than ever.
It says it is working with "cutting-edge technology" to develop self-drive cars.
In 2015, it opened a new £20m factory in the town, manufacturing engines for five major car companies. It also has bases in Detroit and Indianapolis.
Speaking at the birthday event at its headquarters, Mr Costin, 89, said he had not anticipated Cosworth would be such a success.
"We thought we might evolve into a small unit with 15 people, but due to winning a few races, the chances came to develop," he said.
"It was an almost rollercoaster ride, getting bigger and bigger all the time."
In the early days, a modified Ford engine was the first to break the 100 bhp per litre barrier, and dominated Formula Junior.
In 1967, Cosworth designed and built the DFV for Lotus, which won on its debut in the hands of Jim Clark and went on to win a record 155 races over two decades of F1.
The Cosworth XB powered Nigel Mansell to his 1993 IndyCar championship after he switched from F1, and was behind the mid-90s Indy 500 success of Jacques Villeneuve and Buddy Lazier.
Michael Schumacher won the 1994 F1 championship with a Cosworth EC V8 engine, which produced 750 bhp.
More recently, Cosworth has worked with Aston Martin and Red Bull to develop the V12 hypercar.