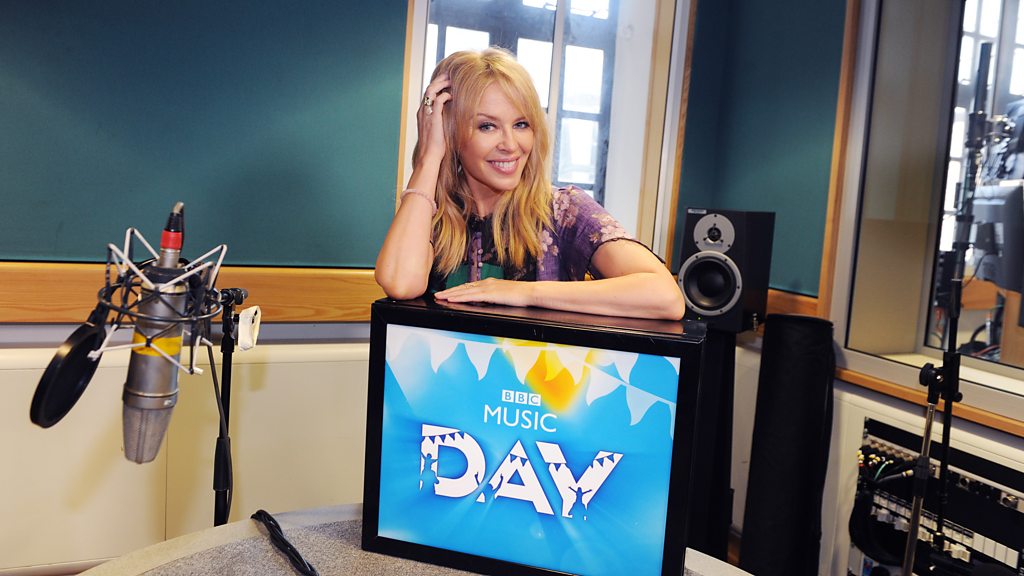 Pop star Kylie Minogue will be making platform announcements around the UK to mark BBC Music Day on Friday.
The singer has recorded a series of messages encouraging commuters to share their love of music.
"Please let passengers sing and dance their way off the train first before trying to get on board," says the star in one of the announcements.
Kylie launched her musical career with a cover of Little Eva's The Loco-Motion in 1988.
"I truly believe in the power of music to bring joy and lift the soul," said the BBC Music Day ambassador.
"Hopefully my little messages for train passengers will be a nice surprise and a reminder of the power of music."
The announcements will be heard at stations in Birmingham, Glasgow, Leeds, London, Manchester and Reading on Friday.
Billed as a UK-wide celebration of music, the third annual BBC Music Day will see some of music's biggest stars taking their songs directly to the public.
Lisa Stansfield and Rowetta Idah will be performing on a dedicated Manchester Metrolink Music Tram, while Stansfield has recorded her own announcements for the city's tram and light rail system.
"I've been around the world, but I, I I, could always find my ticket," she can be heard saying – a reference to her 1989 hit All Around the World.
"So make sure you've got yours before you get on board."
Gabrielle, Nina Nesbitt and Chelcee Grimes, meanwhile, will be part of an all-female line up performing for Busk in London.
Indie band Blossoms and Scottish singer Amy Macdonald will also play surprise gigs at secret locations in the UK.
McDonald's set with the award-winning community choir SoundSational will be broadcast on BBC Breakfast. The star said she was looking forward to the performance – although she hadn't had time to rehearse yet.
"That happens tomorrow," she told BBC News. "I think the choir have been rehearsing behind the scenes but, for me, I just sing as normal."
The star said she was proud to be part of the initiative.
"Music is more than singing along to your favourite song. It can really change people's lives.
"I had an amazing letter from two people who met at my concert – and they fell in love and got married and they were going to spend their honeymoon driving around Scotland in a battered old Range Rover.
"They basically met because of my music and it totally changed their life for the better… I hope."
On television, Jarvis Cocker and Happy Mondays star Bez will take part in a special edition of Bargain Hunt.
There will also be a music-themed version of Pointless that will pit soprano Lesley Garrett against pop star Ella Eyre and singer Lianne La Havas.
Radio 4's Woman's Hour will mark Music Day by publishing a Women in Music Power List that will celebrate the top 40 female voices in music, from songwriters and performers to managers and producers.
Amateur musicians and community groups are being encouraged to join in too, with schools being given support to put on special performances in playgrounds and assemblies.
"It is so important that we never lose sight of the importance of music," said Dame Vera Lynn, one of Music Day's ambassadors.
"It is so powerful and has the unique ability to comfort and console us, raise our spirits and unite people from all walks of life by transcending any boundaries of communication or differences of opinion.
"It is, I believe, one of the great joys of life and I welcome the opportunity for people to have a little more music in their day."
Follow us on Facebook, on Twitter @BBCNewsEnts, or on Instagram at bbcnewsents. If you have a story suggestion email entertainment.news@bbc.co.uk.