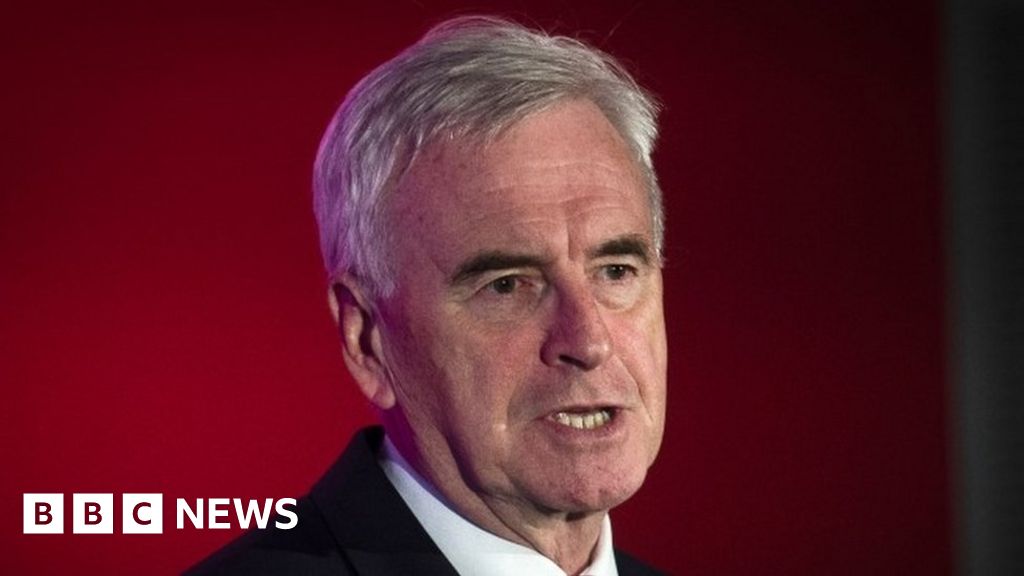 Labour would force all large firms to give shares to their workers netting them up to £500 a year each, John McDonnell will say on Monday.
In his main party conference speech, the shadow chancellor will set out planned "inclusive ownership funds".
Firms would have to put 1% of their shares into the fund every year up to a maximum of 10%.
The CBI said Labour's "diktat" would "encourage investors to pack their bags".
But Labour says its plans would give workers a financial stake in their employers and more say over how they are run.
The amount workers will get would be capped at £500, with the rest – estimated at £2.1bn a year by the end of a five-year Parliamentary term – going into a fund to pay for public services and welfare.
The scheme would apply to companies with more than 250 workers, although smaller firms could set up inclusive ownership funds if they wanted to.
Labour calculates that 40% of the UK's private sector workforce – some 10.7 million people – will initially be covered by the scheme. Dividend payouts will be made at a flat rate to all employees of the firm.
The funds would be held and managed collectively and their shares not be able to be sold or traded. The system would be similar to that operated by employee-owned retailer John Lewis.
But payments from the fund will be made to individual, eligible employees, Labour sources said.
Workers' fund representatives would have voting rights in companies' decision-making processes in the same way as other shareholders.
Labour aides said the creation of the funds would help redress growing inequalities after a decade when average pay has not increased in real terms.
But the dividend payments will not be available to state employees – including workers in industries such as water which Labour hopes to nationalise.
Labour sources say the £2bn social dividend fund would ensure public sector workers and employees of smaller firms also benefit from what the party calls a "broadening of ownership in our economy".
Mr McDonnell will tell Labour delegates in Liverpool in his speech at 1215 BST: "Workers, who create the wealth of a company, should share in its ownership and, yes, in the returns that it makes.
'Another tax rise'
"The evidence shows that employee ownership increases a company's productivity and encourages long-term thinking."
He will add: "We believe it's right that we all share in the benefits that investment produces."
Carolyn Fairbairn, director general of the CBI, which represents big business in the UK, said Labour was "wrong to assert that workers will be helped by these proposals in their current form".
She said: "Their diktat on employee share ownership will only encourage investors to pack their bags and will harm those who can least afford it. If investment falls, so does productivity and pay."
The Conservatives said Labour's proposal was "yet another tax rise" that would make it harder for firms to "take on staff and pay them a good wage".