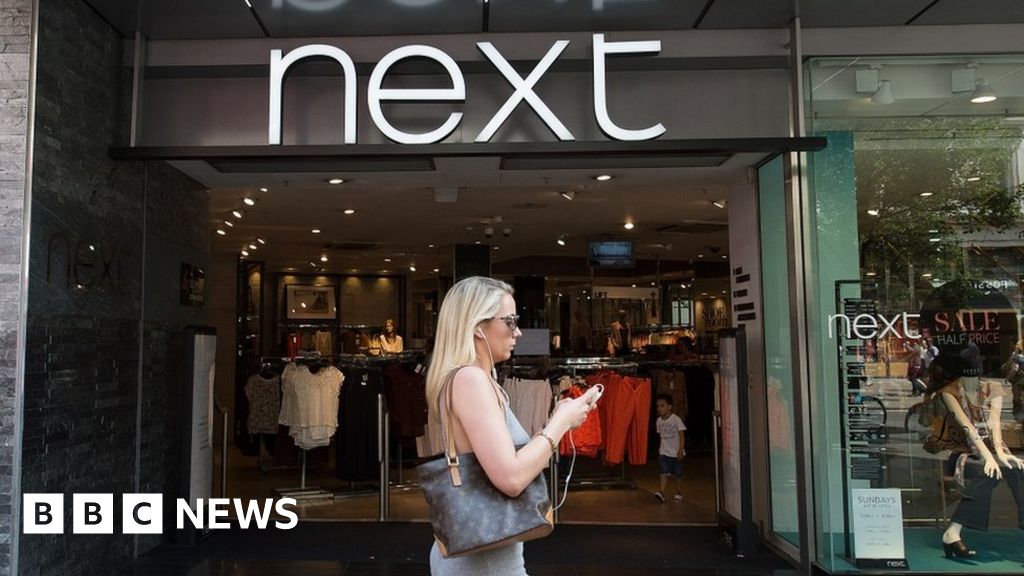 Next has reported better-than-expected sales following this summer's heatwave but warned of Brexit-related risks to its business.
Buoyant trading for the first six months of the year led the clothing retailer to raise its profit forecast for the full year by £10m to £727m.
Next said the UK retail market remained "volatile" and it remained "cautious" in its outlook.
The Brexit-related risks include higher tariffs on goods imported into the UK.
However, queues and delays at UK and EU ports as a result of increased customs declarations for other companies posed the biggest risk.
The retailer said it was preparing for the possibility that the UK leaves the EU without a transition period or a free trade agreement in place.
However, it downplayed the impact a no-deal outcome would have on its business.
Share boost
Next's better-than-expected results come in contrast to some of the downbeat news from other High Street retailers, and sent its shares up more than 7% in morning trading.
The retailer said full-price sales in the first six months of the year beat expectations, rising by 4.5%.
However, the trend of sales moving online and away from High Street stores continued. Sales at its shops fell 6.9% to £925.1m, but online sales jumped 16.8% to £892.3m.
As a result total group sales were up 3.8% to £1.98bn and pre-tax profit rose 0.5% to £311.1m.
"When we issued our August Trading Statement we believed that there was a high risk that the sales gained in July would be offset by losses in August. As it turned out, we did not experience any material loss of sales in August or early September," said Next chief executive Lord Wolfson.
However, he added: "The UK retail market remains volatile, subject to powerful structural and cyclical changes. As expected, sales in our stores (which now account for just under half of our turnover) continue to be challenging."
'More agile'
Julie Palmer of Begbies Traynor said Next's "continued success" owed much to its early entry into catalogue sales with the launch of Next Directory in 1988: "This was a natural fit with the subsequent rise of online shopping and gave Next a distinct advantage, which they still benefit from 30 years later."
However, she added. many of Next's rivals were "light years behind" and would "continue to struggle".
Next also has a "more agile" retail estate with shorter leases and profitable stores, said Sofie Willmott of GlobalData.
"Stores remain a declining part of the business but Next is utilising physical locations to its advantage, for example by adding in concessions to drive revenue and give shoppers other reasons to visit Next, and also as a back-up stock pool for online orders," she added.
Next said it was "well advanced" in its preparations in case neither a transition period nor a free-trade agreement were in place by the time of Brexit next March.
But it said the no-deal risks did not pose a "material threat to the ongoing operations and profitability" of Next in the UK or EU.
Next said in the "unlikely event" that free-trade agreements were not put in place, the cost of goods could rise by up to about £20m, which would add less than 0.5% to its prices.
The company said it would be "in the interest" of both the UK and remaining EU nations that the UK's departure from the EU was "carefully managed, accompanied by a period of transition and some form of agreement for free trade".
Last year, Lord Wolfson, who voted in favour of Brexit, warned that failing to secure a "smooth" departure from the EU could result in "years of economic decline" for the UK.
---
Analysis:
Emma Simpson, business correspondent
The news from Next is certainly a lot brighter than the gloomy headlines from other big names on the High Street.
But these figures shouldn't be interpreted as a sign of an improvement in consumer spending.
Next is a very well run business which is managing its costs and has been has been far more agile in dealing with the huge structural shift to online sales.
Although sales in its physical stores are down, this weakness is being offset with continuing growth online.
Just under half of its Next brand sales are now online. Most of its stores remain profitable and the average length of its leases is just over six years.
This retailer seems to be navigating the changes better than most of its big rivals.
---