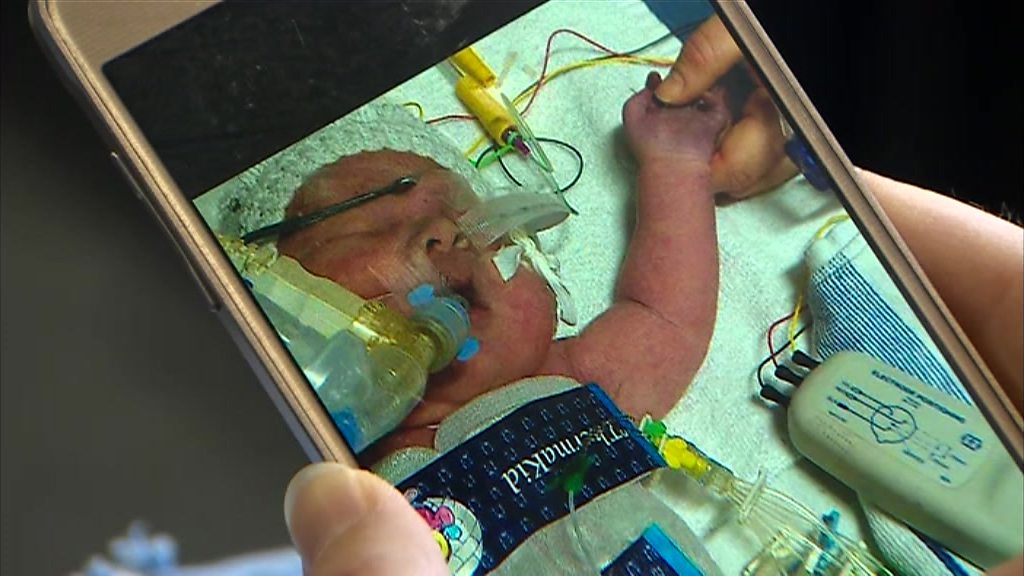 An NHS trust at the centre of concerns over its maternity services has been asked to hand over hundreds of records to regulators, BBC News has learned.
The Shrewsbury and Telford trust will have to provide details over almost two decades of all stillbirths, maternal and neonatal deaths and significant harm in maternity services.
Health Secretary Matt Hancock said "all potential cases" should be looked at.
The trust has always said it would cooperate fully with a review.
The ongoing independent review of maternity services at the Shrewsbury and Telford trust was ordered by the former health secretary Jeremy Hunt last year.
Mr Hancock said: "The investigation that has been set up can range as wide as needed to make sure that we get to the bottom of what happened, that families can find out what happened, and that we can learn the lessons from it.
"We've got to get to the truth."
Two families who both lost a child through errors by the trust had written to Mr Hunt raising concerns about 23 incidents.
Since then, scores of other families have come forward to allege they too were failed.
The BBC reported last week that more than 100 cases were now being considered by the independent review, which is being led by experienced midwife Donna Ockenden.
The regulator, NHS Improvement, has now told the BBC that it has extended the review. In a statement, it said the trust would be required to provide a list of maternity incidents between 1998 and 2017.
Its records will be matched up with the names of those families who have come forward.
For any cases that the trust has not investigated, the regulator said "these will be referred back to trust".
It added: "Our focus is still to do this properly and thoroughly as that will enable the greatest learning and is what those affected deserve."
It also emerged last week that another regulator, the Care Quality Commission (CQC), has identified problems with current services, particularly the way in which the trust cares for women deemed to have a high-risk pregnancy.
The trust has maintained it was cooperating fully with the independent review.
It said it was also working with the CQC over its ongoing concern and it insisted its maternity services were safe.
The trust will hold a board meeting later at which its maternity services will be discussed.