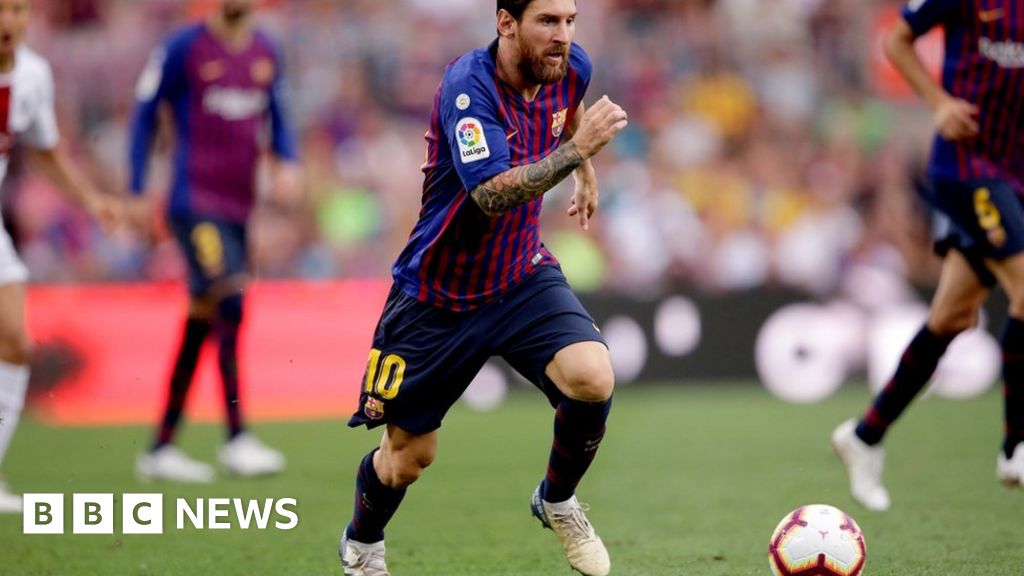 Spain's La Liga is taking games to North America, but that high-profile move is only the tip of the iceberg as it looks to challenge England's Premier League as the world's pre-eminent football league.
In staging competitive matches in the US and Canada over 15 years, La Liga is the first of Europe's big five leagues to pledge to stage a game overseas.
La Liga has asked the Spanish FA to play the Girona v Barcelona match next January at the Hard Rock Stadium in Miami, in what league president Javier Tebas has called a "groundbreaking agreement".
Initially the players' union and fan groups were both vehemently opposed, although the fans have now been appeased after it was agreed that Girona season ticket holders would be compensated.
Fans United says the venture will "bring Spanish football and La Liga closer to fans in the US – one of the countries with the most fans of La Liga teams – [and] represents a unique opportunity to connect and serve these fans, who face a huge challenge every day to follow their teams".
However, after talks between La Liga and the Spanish footballers' union (AFE), players still say they have a level of "discomfort" about the proposals and say they will have the final say on whether the match goes ahead.
'Entertainment provider'
The North American venture is all part of a wider push that has quietly been taking place over the past couple of years.
"We are building our global brand… moving forwards and changing from being a football regulator into an entertainment provider," says Joris Evers, global communications officer for La Liga.
La Liga has opened various offices recently – including in Dubai, India, China, Singapore, South Africa, Nigeria, the US and Mexico.
There has also been the formation of the La Liga Global Network initiative, hiring 44 people around the world to be "business scouts" on La Liga's behalf.
"They are looking to discover new markets, to make sure we know about different markets, to look for opportunities and also to be aware of potential threats," says Mr Evers, the Dutchman who rose to prominence as the man who helped promote the then-fledgling Netflix to the world.
"We are working to further penetrate those markets that look promising."
Support service
Mr Evers says: "The role the delegates have is unique, as every potential market – Hungary, Chile, Costa Rica, Russia, Vietnam, Malaysia – is different. Their roles cover business development – things like opening academies, securing sponsorship, TV deals – and also being a resource on the ground for our clubs."
He says if a club such as Girona wants to investigate a new market such as India, they can come to La Liga, which will work with them to help with things such as marketing and sponsorship opportunities in the country.
That level of support is only possible because the organisation has gone from being a 45-person outfit to one employing 400 people around the world, with experts being bought in from outside sport, for example from the banking, health and digital media sectors.
It is all part of a turnaround initiated by Javier Tebas when he took over the reins at La Liga five years ago.
Since then he has brought some order to the chaotic financial situation that many clubs had found themselves in, with club spending, for example on players, tied to the economic performance of the club.
Transfer restrictions
In 2015 La Liga TV rights were sold collectively for the first time. Prior to that clubs sold their own individual rights, something which benefited Real Madrid and Barcelona, but not the majority of teams.
"There was a huge increase for the clubs in terms of TV rights money, particularly for the smaller clubs – but the bigger clubs got more money too," says Mr Evers.
"That was the final key to helping smaller teams get back to financial health, as the television revenues allow for more investment."
He says there is now more interest from financial investors to get involved in the Spanish game.
"Before, clubs could only get short-term financial credit," he says. "Now investors are willing to lend for longer, and at better rates."
Tim Bridge, Spanish football expert at Deloitte, agrees that a few years ago Spanish football was in a financial mess.
"Clubs across the top two leagues were in administration, and many were in debt to public authorities such as the taxman," he says.
"When Javier Tebas came in he had those two pressing tasks; to clear up the financial situation at clubs and reforming the existing TV deals towards a collective model.
"Spanish clubs have to submit budgets in advance, if they can't meet their liabilities then they are placed under a transfer embargo, and other restrictions."
Digital developments
Mr Bridge says another important development has been investing in the actual look and presentation of La Liga's television product.
"TV centralisation has ensured more eyeballs around the world," says Mr Bridge.
"La Liga clubs are also utilising something called 'digital billboard replacement'. These are perimeter advertising boards in the stadium – but which have a digital overlay facility, allowing for different advertisements to be seen in different TV territories simultaneously.
"So, in each different TV market around the world the live action will show local advertising on the billboards, rather than those being seen in the stadium at the actual match in Spain.
"It enables local sponsor partners to maximise their investment in La Liga in their own territories."
'Taking risk'
Mr Bridge says La Liga wants to be at the forefront of the next wave of sporting development over the coming decade.
"The overseas concept is one that has a lot to merit it, if you look at the Spanish clubs' pre-season tours and the large numbers of attendees, then the place to take overseas games had to be North America.
"And if you are looking to build new fan bases, the way to build awareness is through a competitive match.
"They are willing to take the risk, as they obviously believe the game is going to become even more significant globally in future."
But he says one major challenge remains, namely getting more clubs competing for the league title. Real Madrid and Barcelona have won all but one of the last 14 titles.
"The reason the Premier League is so successful is that on any given day any team can beat any other one, that does not happen enough at present in La Liga."