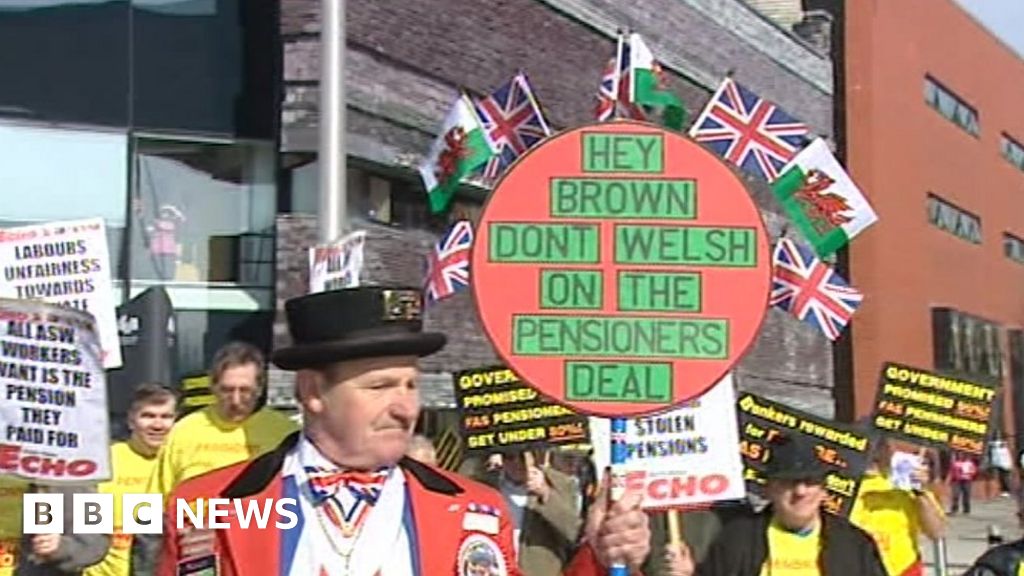 Former steelworkers whose pension fight led to a law change to protect people's retirement funds say they are being "robbed" of their own benefits.
Cardiff-based Allied Steel and Wire (ASW) went bust in 2002, with employees facing the loss of their pensions.
Campaigners thought they had won a fight to get 90% of their money, but due to the effect of inflation they claim some are only getting half.
The UK government said payments were following the legal requirements.
About 1,000 ASW workers in Cardiff, Belfast and Sheerness in Kent lost their jobs and their pensions when the company was declared bankrupt in 2002.
The campaign to save their money was a key factor leading to the creation of pension protection schemes which exist for UK employees today.
In 2004 the then-Labour UK government launched the Financial Assistance Scheme (FAS), which now pays 150,000 members of certain wound-up schemes up to 90% of their pensions.
It was followed in 2005 by the launch of the Pension Protection Fund, a safety net aimed at safeguarding cash people are paying into pension schemes.
Ex-steelworkers are unhappy they are not getting the full 90% of their pensions, because under their deal money paid in before April 1997 is not fully inflation-proofed.
John Benson – who worked for nearly 40 years at ASW in Cardiff- told the BBC's Sunday Politics Wales programme they were losing thousands of pounds.
He said successive governments were "destroying lives by not ensuring that we're getting the full 90%".
"It's a disgrace really after sixteen years that we're still fighting for something that's ours," he added.
Phil Jones, another former ASW worker, said their pensions were going down each year with a "severe impact" on people.
"Many of our members have downsized, selling their houses, because they cannot manage without this inflation proofing on their pensions," he said.
"This is money we have paid over a life time, this is money that we have fought for over the last 16 years. We're not going to give up."
Tom McPhail – head of retirement policy at Hargreaves Lansdown – said it would be "hugely challenging" for pensioners to win improved terms at a time of "still-constrained public finances".
"From the government's point of view, they feel they've addressed the needs of the FAS members – they paid the compensation, it's a done deal and they've moved on," he said.
Pensions expert Baroness Altmann – who campaigned with the steelworkers from the beginning – said she fought hard to get improvements while pensions minister under the then-Conservative Prime Minister David Cameron from 2015 to 2016.
But she said there was no appetite in government then or now for new help.
"If any movement by members of parliament or ministers were there to propose this – and it isn't being proposed – then I would be happy to support it," she said.
"Those who were wronged in this terrible way by flawed legislation do deserve better treatment than the people who came after them, who knew they were protected by the Pension Protection Fund.
"Other than pointing to a moral obligation, there's nothing else we can do."
A Department for Work and Pensions spokesman said: "The FAS ensures people get 90% of their pension benefits accrued when their scheme started to wind up, subject to an overall cap, and provides support to individuals who may be worse off if the FAS had not been established."
"Pension benefits built up prior to April 1997 aren't increased for inflation, following the legal requirements for pension schemes at the time."