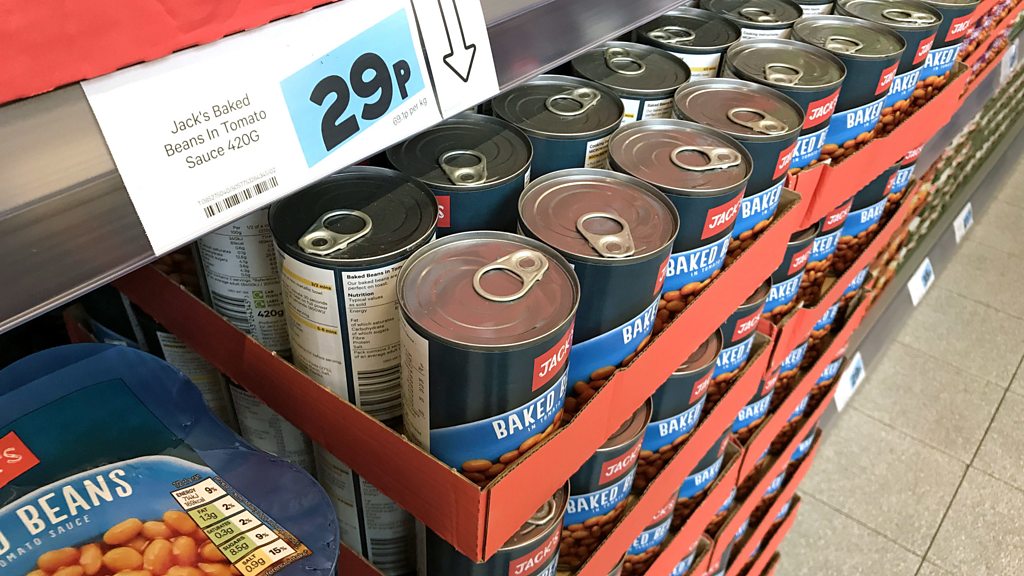 Tesco has unveiled its new discount chain called Jack's that aims to tackle the rising threat posed by German rivals Aldi and Lidl.
The first store is in a mothballed former Tesco store in Chatteris, Cambridgeshire.
Another outlet in Immingham, Lincolnshire also opens on Thursday.
Between 10 and 15 stores are planned for new locations, next to existing Tesco stores, and a small number of converted Tesco stores.
Chief executive Dave Lewis claimed that Jack's would be cheaper than Aldi or Lidl.
"We have been thinking about what customers want, and bringing it to them in the most cost-effective, value-orientated way possible," he told the BBC. "The objective is to be the lowest cost for customers."
Jack's stores will sell 2,600 products – drastically lower than the 35,000 carried in a Tesco supermarket – with 1,800 branded "Jack's".
Customers will not be able to use Clubcard points at Jack's and there will be no online offering.
Mr Lewis said that beyond the initial 15 stores, more could follow, but that was "not a calculation we're currently making".
Jack's said Tesco would be funded to the tune of £20m to £25m initially.
The fledgling chain is named after Sir Jack Cohen, the Londoner who founded Tesco in 1919 and whose motto to "pile it high and sell it cheap" is in keeping with the aim of the new venture.
Natalie Berg, retail analyst and founder of consultancy NBK Retail, said the launch of Jack's was "very much a last resort" as Aldi and Lidl posed an "existential threat to Tesco's business".
As well as the discounters, Tesco faced being overtaken as the UK's biggest supermarket chain by a combined Sainsbury's and Asda.
The £15bn merger will be the subject of an in-depth competition investigation, the Competition and Markets Authority announced on Wednesday.