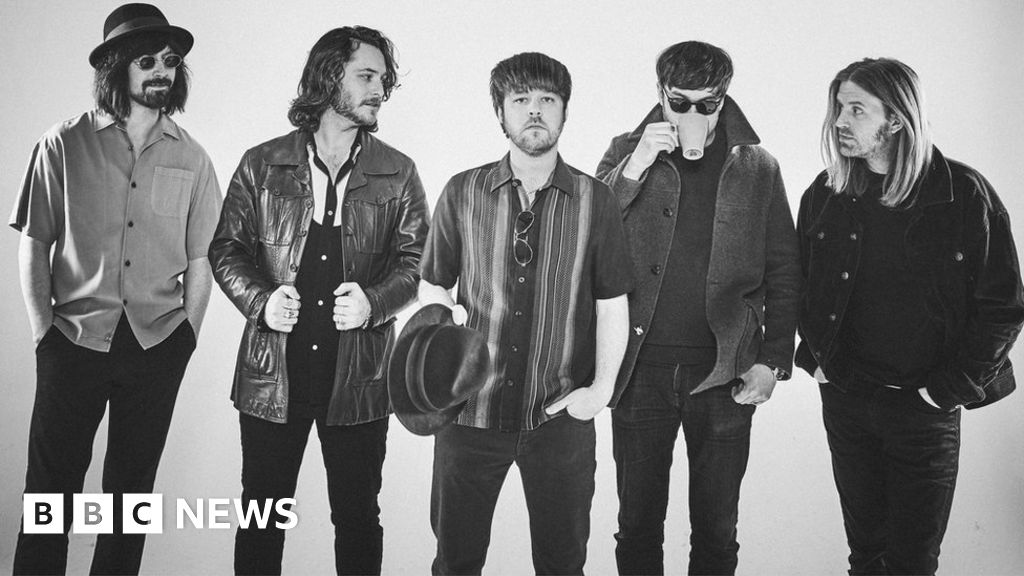 OK, quick question for you: What connects Arctic Monkeys, Florence and the Machine, Kings of Leon and The Courteeners?
"The thing they've all got in common is that they're all massive," laughs The Coral frontman James Skelly,
"They haven't got much in common with us anymore!"
The correct answer, of course, is that they all began their ascent to the top by opening for his band.
If the Wirral outfit's fine run of selecting future rock star support acts continues then you'll want to note the name She Drew the Gun, from their own label Skeleton Key Records.
Louisa Roach's band will tour the UK with James and his bandmates next month, as they perform tracks from their new album Move Through The Dawn.
"She's earned that spot," declares the singer.
"Like most people who support us, we'll probably be supporting her in about five years – that's how it seems to go."
"What we do is we get them early," jokes keyboardist Nick Power, "so we can guilt them into getting the support later!"
The Coral's ninth studio LP is their second with their new line-up, following a five-year hiatus – a break they needed, especially from playing ubiquitous indie anthem Dreaming Of You.
The Phil Spector/Abba-inspired new record boasts the typically catchy guitar-driven pop hooks that once saw them challenge Beyonce for UK radio play but this time delivered in a more direct manner than the sprawling psych rock wig-outs of its predecessor, Distance Inbetween.
"It was meant to be like that, we didn't want it to be subtle, really," says James.
The quintet, who all still live in Wirral or Liverpool, may be adept at penning timeless tunes and helping to rocket launch the careers of others but they admit they're pretty good at self-sabotage too.
James, 38, explains: "We can't go to residential recording studios and we can't have tour buses because we lose ourselves – it just goes insane."
"We have to go in to work, then we separate from each other like naughty boys."
"Or we lead each other astray," adds Nick.
Like the time they were gifted Noel Gallagher's London studio, to record their 2007 album Roots And Echoes, for free.
"It ended up being the most expensive album we ever made," declares James, shaking his head with a smile.
"Hundreds of thousands," confirms Nick.
"We just stayed in this house with catering and all our mates turned up, we were there for weeks," James adds.
"We just watched B movies like Gingerdead Man over and over again, ate toffee pudding and all put on about three stone."
Move Through The Dawn, recorded in the relative local safety of Liverpool's Parr Street Studios, comes accompanied by a Bob Dylan's Chronicles-esque tour diary written by Nick – entitled Into The Void – which charts life on the road since their return, comeback gigs, celebrity run-ins and general scrapes.
James' brother and band mate, drummer Ian Skelly has vowed never to read it but this writer certainly enjoyed the insight into the life of a modern day "old school, working band," as James puts it.
But what did he make of Nick's literary efforts, I wonder.
"Rubbish!" he deadpans, behind aviator shades and a straw hat.
"I thought it was great yeah. He sent me the first one and I think he'd overthought it and I was like 'the band aren't in it'. And then I think he had to go back and write the whole thing and the next one I got was brilliant."
Nick explains: "I had this weird idea to not include any of the band and just include all the people around it. Bizarre idea really!"
"We've done it with music," adds James, "where you're like: 'We're not going to have any guitars on this,' and you finish it and you're like: 'That sounds terrible.'"
"It's field writing," continues Nick. "All written in real time, then I'd embellish them. It's almost like you're at the scene of the crime."
Back to the music and new album highlights include opener Eyes Like Pearls, riff-tastic new single Sweet Release and the Traveling Wilburys-esque Reaching Out for a Friend, as well as final track After The Fair, which sees Nick swap keys (and his quill) for some rather lush finger-picking.
The most meandering jam on the pretty lean LP comes in the form of Stormbreaker, which apparently emerged during the last album sessions and contains a Dave Gilmour-style guitar solo.
For James though, another track stands out as the one most deserving of a place in their repertoire.
"I like Eyes Of The Moon," he says, "I think that's a proper Coral song.
"If you had one of those people on YouTube who were like, 'how to write a Coral tune,' that's the tune they'd write.
"I remember we got the idea off Johnny Remember Me, you know the Joe Meek song. This voice from the ether, that was the idea."
If layered harmonies, opaque lyrics and surreal sounds do appear on the checklist for a classic Coral song, then political statements do not.
Not on first listen, at least.
"We just naturally don't write in that way, most things we write about are like escapism or psychedelic," says Nick.
James interjects: "It's in there but I think the thing is with my voice if I sing certain words they sound ugly and some words sound good.
"I don't think my voice is really in that tradition like Alex Turner or even Father John Misty, they can pull off certain words.
"But it depends what you see as politics. Philosophy? I suppose everything is political these days, there are certain ideas in there that if you want to politicise them you can but it's more like trying to find a common ground."
James and Nick agree the band are "more connected to fans now than we've ever been" on social media, having missed out on such technology first time around the block.
They wouldn't want to use it to let the fans pick the set list for their upcoming gigs, however.
James: "I don't think you want that from a band really.
"We did that once and we had to play a B-side that we just didn't want to play. There's a reason why that song was a fourth track on an EP or whatever… Because it was crap! It was some depressing tune we wrote, we don't want to relive it."
The video for After The Fair sees the Wirral lads taking a stroll around another seaside town, Llandudno.
The practice room back home where they build such creations is over on the water and evidently places by the sea are where they feel most at home.
James confirms: "Yeah they feel right. You go to the city and you do feel like a freak.
"You go to the sea and feel like a freak with a bit of space!"
Los Angeles, where James' cousin and fellow new album rocker Miles Kane lives, is also by the sea. So any chance we'll see The Coral parading around Malibu anytime soon in search of the next big thing to support them?
"No, I like to be around my family and my mates," says James.
"He's [Miles] loving it isn't he? I'm just too British I think."
If London alone provides too much temptation, then they're probably better off where they are.
Move Through The Dawn by The Coral is out now.
Follow us on Facebook, on Twitter @BBCNewsEnts, or on Instagram at bbcnewsents. If you have a story suggestion email entertainment.news@bbc.co.uk.