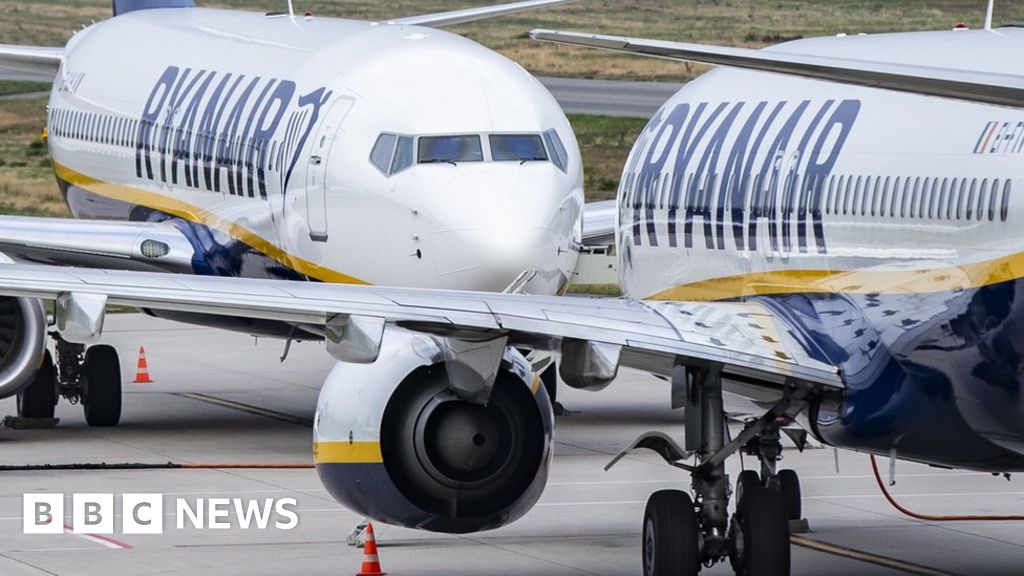 The Civil Aviation Authority (CAA) has called on Ryanair to compensate passengers affected by staff strikes this week.
The CAA argued Ryanair was bound by EU law, but the airline said it would reject any claims.
Ryanair has cancelled 150, or about 6% of its 2,400 scheduled flights this Friday.
The airline said this was due to strikes in Spain, Belgium, Holland, Portugal, Italy and Germany.
Under EU Regulation 261, travellers are entitled to a refund or new flight if their trip is cancelled.
Compensation of between €125 (£110) and €600 (£540) can also be claimed if a flight is cancelled within 14 days of departure and if this is deemed to be the airline's fault. This includes staff strikes.
But airlines can refuse to pay out for "extraordinary circumstances" including bad weather or strikes by air traffic controllers.
The CAA said Ryanair should pay compensation because the strikes were being held by Ryanair staff, making the airline legally liable.
However, Ryanair said this week's strikes had been spurred by "competitor airline crew, unions and lobby groups" and thereby count as "extraordinary circumstances".
"No compensation is payable to customers when the delay/cancellation is beyond the airline's control," Ryanair said in a statement.
"In recent years during which there were over 15 days of pilot and cabin crew strikes in Germany, Lufthansa was not required to pay EU261 compensation. Similarly, the UK CAA should also explain why it took no action against BA during last year's cabin crew strikes."
Many passengers have voiced their concerns on social media after Ryanair announced the cancellations earlier this week.
---
Can passengers claim for any other costs?
Airlines must provide food and drink (or vouchers for them) for anyone delayed more than two hours or a short-haul flight, three hours on a medium haul or four hours on long haul.
If delayed overnight, travellers are entitled to accommodation and the airline must provide transport to and from it.
Additionally, airlines may reimburse the cost of any relevant phone calls made due to the delay.
However "consequential losses" such as for pre-paid accommodation are not covered.
Would a compensation claim be successful?
"If Ryanair say no, it's not the end of the line for passengers," says Megan French, News and Features Editor at consumer group MoneySavingExpert.com
Both she and the CAA recommend travellers take their case to Aviation ADR, the airline's dispute resolution handler, if their initial claim for compensation is rejected.
During strikes by Ryanair staff earlier this year, Aviation ADR said it had ruled in favour of passengers for every complaint.
However there may be a delay. A study by consumer group Which? revealed that in 2018 only 14% of claims against Ryanair handled by Aviation ADR led to a payout. It said "the vast majority of complaints were still outstanding at the end of the year."