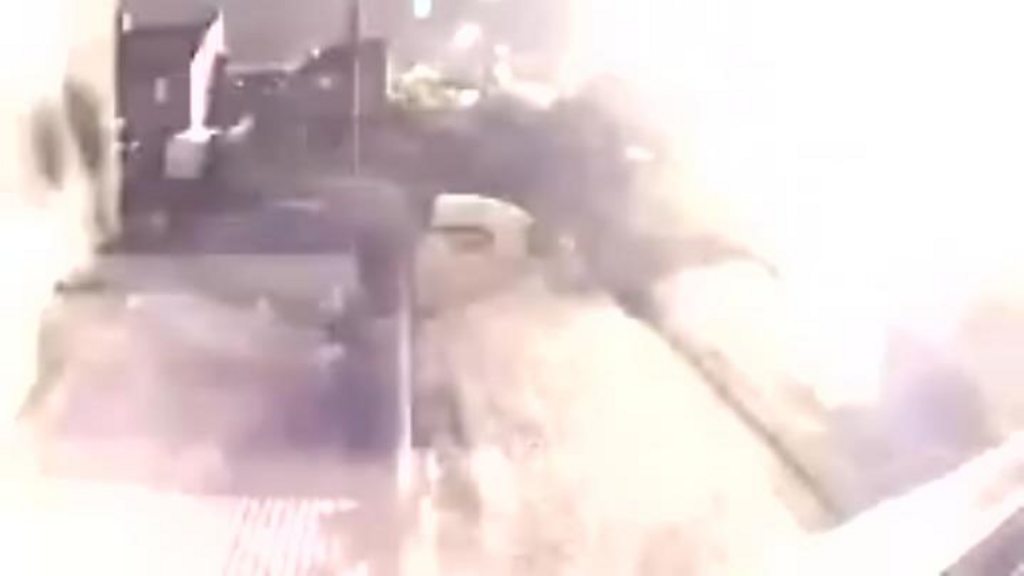 Two people have been hurt in an explosion at Tata's main Welsh steelworks plant in the early hours.
Residents living near the Port Talbot plant spoke of hearing a "massive" blast shortly after 03:30 BST.
Images posted on social media show flames at the site and plumes of smoke.
Tata Steel said the explosion came from a train used to carry molten metal, but the fires at the plant were now out and all employees had been accounted for.
The firm posted on Twitter: "We can confirm two of our employees were slightly injured when there was a spillage of liquid iron while it was travelling to the steel plant.
"All fires have now been extinguished. A full investigation has begun."
Helicopters were circling overhead and South Wales Police said it received "numerous calls" shortly after 03:30 "reporting an explosion".
Sharon Freeguard, a Neath Port Talbot councillor, said she was woken by "some terrific bangs".
"I thought I heard about two to three explosions," she added. "It was extremely frightening and very, very scary.
"The house just shook, so it was quite alarming. Once it was over, I did wonder what it was and just did think about the works.
"There was like a mushroom cloud at the back of the house. We're just all relieved that there are no fatalities."
'The house shook'
Local resident Craig Williams told the BBC he heard "an almighty bang".
"It's very unusual to hear something of that magnitude," he said.
"It was just a huge bang. The house shook a little. It's not something we are accustomed too"
Mr Williams said Port Talbot "revolves around this plant" and it helps to "bring the community together".
The steelworks is the largest in the UK and employs more than 4,000 people.
"The explosion caused some small fires which are all under control and damage to some buildings on the site," a spokesman said.
"South West Fire and Rescue Service have informed us there is no need for concerns re hazardous effects from the smoke from the fire."
The explosion was heard as far away as Bridgend, 14 miles (22km) from the blast, and the National Police Air Service's St Athan wing confirmed a helicopter had been scrambled to the scene.
Aberavon MP Stephen Kinnock said the incident "raises real concerns about safety at the works".
"It could have been a lot worse. Grateful as always to the emergency services for their rapid and effective response," he wrote on Twitter.
"Tata Steel Europe must conduct a full review, to improve safety."
Tata had recently invested £50m in the plant to refit a blast furnace. It has pledged to invest £1bn over 10 years if market conditions allow.
---
Are you in the area? Did you witness the explosion? If it's safe to share your experiences then please email haveyoursay@bbc.co.uk.
Please include a contact number if you are willing to speak to a BBC journalist. You can also contact us in the following ways: